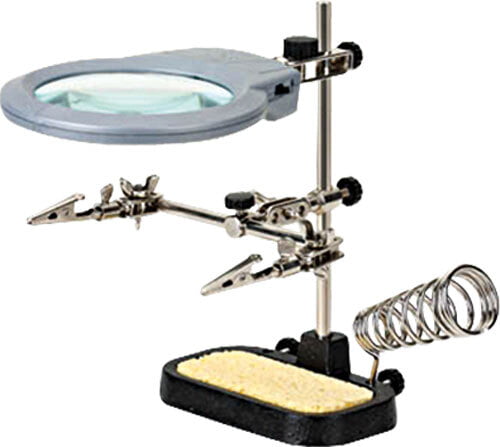 Helping Hand Magnifier led
Third Hand Soldering Iron Stand Helping Hand LED Magnifier desk handheld dual magnifying glass with welding table auxiliary clip
Main Lens Magnifying multiple

2x

Accessorial Lens Magnifying Multiple

6x

Main Lens Size

90mm

Accessorial Lens Size

21mm

Batteries

LR03AAA (Not Included)

Features

A useful Aid for soldering work or Model Markers.
Adjustable Crocodile Holding Clamps.
Cast Iron Base for Added stability.
Complete with Magnifying Glass.
Ideal when a third Hand is Needed.
With Two LED lighting, this model can work very well in the dark environment.
With three pcs of AAA batteries, large capacity, this model can Continuously discharge more than 10 hours, expediently be used.